Frequently Asked Question
How do I upload a stock order?
Last Updated a year ago
Uploading Stock Orders
One of the latest features for autoecat.com is the ability to upload stock orders into the scratch pad to submit to cart. This requires only that you have the ability to export a purchase order from your system into a .csv file.
Creating a .csv
Open your order in MS excel and remove all columns except for the part number and order quantity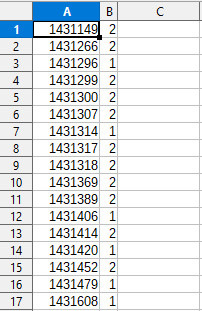 Save the file to your PC as a comma delimited .csv file
Uploading to autoecat.com
Log into autoecat.com with your regular credentials and click on the "Stock Order" button
From within the stock order screen, click the 'upload items' button

Follow the instructions in the upload window, selecting the .csv file you saved earlier.
Click the 'Upload File' button to upload the file into the autoecat scratch pad
Once the file is loaded, review your order to ensure all items were properly priced. In any cases where there are duplicate numbers on your sponsor's system, you will need to identify which brand of product you wish to purchase.

Once you have identified proper brands for any duplicates, click the 'Stock Check' button to price these items.
You will be automatically redirected to the shopping cart to begin the checkout process.
Click 'Submit Order' to continue the checkout process

In the order submit screen, enter in a PO number, your ship via information and any additional notes you would like assigned to the order

At the bottom of the page, click the "Send P.O." button to submit the order to your supplier.
You will be provided a reference number once the order has been processed, and your order will be available for review in the 'Order Review' on autoecat.com. If your supplier is using JDispatch, you will also be able to track the status of your order from first receipt to delivery/pickup.